Key people
Everyone is valuable at St. Alban's, and each person brings with them their own gifts and talents and abilities. A huge number of people contribute to the success of the parish and its many activities, ministry and mission. Below are details of the leadership team and officers at the church.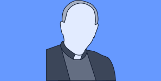 Vicar
Vacant from February 2017
The parish will be in Vacancy from February 2017, following Fr. Andrew's departure. We hope to have a new Vicar in place as soon as possible; please check back for updates. In the meantime, administration of the parish falls to Rev. Janet Owens.
Priest
Rev. Janet Owens
0161 312 4683
Rev. Janet joined the team in September 2014, and is involved in many areas of the church's ministry. She worked as a management consultant before ordination training. Her interests include team building, dancing and education. She is married to Roger, and has two grown up children.
Children and Families Coordinator
St. Alban's has a thriving children's church. Marie joined the St. Alban's community in 2014 and coordinates our children's activities. Originally trained as a nurse, she has many years experience in working with children in churches. She is married with three children and lives in Offerton. Marie started ordination training in 2017 and is passionate about sharing the Good News with everyone.
Youth Worker
Sam is married to Jon and has two children. She has been a member of St. Alban's for some years, and was appointed to her role in 2016. She is responsible for ensuring that young people are fully engaged in the life of the church community. She describes herself as a "big kid" and loves having fun!
Churchwarden
Eileen Comerford
0161 4804235
Eileen has been a member of St. Alban's for many years. Her years as a Guide leader have equipped her with many skills useful in her role as Churchwarden; she has responsibility for many of the church's day to day activities. Eileen also helps to coordinate the children's ministry and she enjoys flower arranging and crafts.
Churchwarden
David Griffiths
07505 122531
As well as Churchwarden, David is also a Deanery and Diocesan Synod representative. He is interested in the broader issues affecting the church, and has a keen interest in current affairs. He is also a member of the St. Alban's choir.